Cannabis (no ontology)
From Mazeworld
Cannabis is a psychoactive drug. In real-life, it finds uses in several fields - medicinal, recreational and spiritual uses of cannabis have been reported. Cannabis is one of the most well-known and cultivated drugs in the world, and is the most consumed illicit substance in the world.
In MazeWorld, cannabis is found in the form of joints to smoke. Its main component is known as Tetrahydrocannabinol, or THC.
Being a medical aid with a unique shape, it does not require identification.
Gallery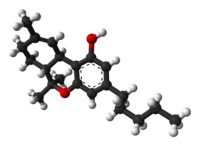 Tetrahydrocannabinol, or THC
See also