.357 Magnum (no ontology)
From Mazeworld
.357 Magnum (also referred to as .357 S&W Magnum, .357 Mag, more rarely 9x33mm R) is a pistol cartridge designed in 1934 by Elmer Keith, Philip B. Sharpe and Col. Daniel B. Wesson, and was first produced by Smith & Wesson. This is the first in a long line of the so-called "Magnum era" cartridges, which spawned the creation of ever-more powerful cartridges. It directly descends from .38 Special, in that it has exactly the same dimensions and projectiles used, with the exception of case length ; .357 Magnum cases are longer than .38 Special cases, allowing a greater amount of powder to be used, thus allowing greater velocities to be reached.
.357 Magnum enjoys tremendeous popularity even to this day; countless revolvers, a number of carbines, and even semi-automatic pistols were produced in this caliber. A favorite of American law enforcement alongside its parent cartridge, the .38 Special, it quickly gained excellent reputation as a proven "man-stopper", and is considered to be a gold standard for personal defense, with which many other cartridges are often compared.
Mazeworld overview
| | | | | | | | | | |
| --- | --- | --- | --- | --- | --- | --- | --- | --- | --- |
| Type | LDV | C1 | C2 | C3 | A1 | A2 | A3 | A4 | A5 |
| Bullet | +3 | 58% | 55% | 52% | 46% | 38% | 29% | 14% | 4% |
Available for purchase in a gun shop or a weapon shop in boxes of 50 or bulk cans of 500.
Available brands and projectile types:

Standard (Regular, SP): FMJ, Lead, LSWC, JHP, JSP, LSWCHP, SEG
Reduced Velocity (Regular, -P): FMJ, Lead, LSWC, JHP, JSP, LSWCHP
Personal Defense (Regular, +P): FMJ, JHP, JSP, LSWCHP
Pocket Dragon (Regular, +P+): FMJ, JHP, JSP
Competition (Premium, SP): FMJ, Match

Retail value of a standard round (Reg/FMJ/SP): 2 P$ /round
Recoil level: 4 - Heavy
Primer type: Small pistol
Powder type: Pistol
Projectile type: .357, 125 grain
Standard load: 128 pwdr

-P load: 115 pwdr
+P load: 141 pwdr
+P+ load: 154 pwdr
Cost of a 50 case box: 21 P$ (0.427 P$/case)
Estimated cost to handload 1 standard round (Reg/FMJ/SP): 1.32 P$
Weapons compatible
Standard weapons
Total amount of standard weapons available in this caliber: 13
Class 1 weapons:
Marlin Model 1894C, conventional rifle
Class 3 weapons:
Colt Python, DA/SA revolver
Coonan Model A, pistol
COP 357 Derringer, pistol
IMI Desert Eagle Mark XIX 357, pistol
IZHMEKH MP-412 REX, DA/SA revolver
Korth Combat, DA/SA revolver
Manurhin MR73, DA/SA revolver
Ruger LCR CT, DAO revolver
Ruger Vaquero, SA revolver
Smith & Wesson Model 327, DA/SA revolver
Smith & Wesson Model 620, DA/SA revolver
Smith & Wesson Model 686, DA/SA revolver
Customs weapon families: Available as a chambering for the Blackhawk and Redhawk families.
Minor services: Desert Eagle 357 Long Barrel (Minor barrel configuration for the Desert Eagle .357), Desert Eagle Rifle Package 357 (Tactical covnersion for the Desert Eagle .357)
Barrel length groups
Depending on the barrel length of the firearm, a multiplier to Pain and Limb damage is applied. Please refer to the lists of weapons or to the event lines to know your particular weapons' barrel length.
| | | |
| --- | --- | --- |
| Group name | Length range | Damage multiplier |
| Short handgun | Up to 3.9" | 0.6x |
| Medium handgun | 4" to 8" | 1x |
| Long handgun | 8.1" to 12" | 1.2x |
| Rifle | 12.1" and beyond | 1.4x |
Gallery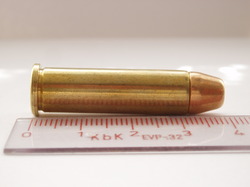 .357 Magnum FMJ
See also
Real life information